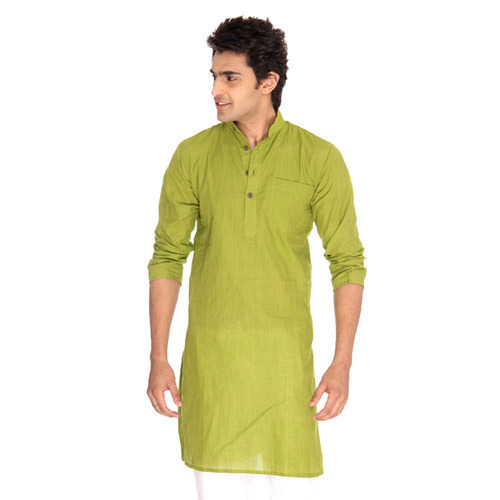 5 Designer Kurta Styles Every Man Must Own
Gone are the days of stereotyping that fashion is only meant for women. If you're a man with style, you will know how fashion is endless. When it comes to ethnic wear, the staple ethnic outfit for men is the kurta set. 
However, considering how adaptable the traditional men's kurtas are, the options are limitless. Kurtas are not only meant for festivities but also for regular casual gatherings.
Read on further to get a list of five such stylish kurta designs which will make everyone turn their eyes around you. These inspiring kurta designs for men will let you flaunt your desi vibes in style! 
Designer Kurta Styles for Men 
Embroidered Kurta 
Men's embroidered designer kurta is a style statement. It's an evergreen trend, especially the Lucknowi Chikan Kurtas. The threaded embroidery designs on the kurta give you a classy and chic look. 
These kurta styles suit the best if you are not a fan of heavy embellishments styled kurta sets. It is also designed with mirror work and jaal work to give a more trendy and fancy look. 
To make a complete kurta set, you can pair the embroidered kurta with a wider legged patiala or cotton pants and a pair of juttis or light colour floater sandals. 
To give it a casual look, feel free to pair it with blue jeans and a classic watch. 
Kurta with Koti 
Men's Koti, also called a Nehru jacket, can transform any outfit into a traditional one. If you are someone who prefers to wear a simple kurta and pyjamas, style it up with a Koti to look aesthetic. 
Koti adds uniqueness to your plain kurta and gives you that exemplary look you need. You can go fancy with embroidered Koti depending on the occasion. 
You can also do colour blocking with the same family of colours, as it is essential to have the Koti blend effortlessly into your outfit. 
Printed Kurta 
Make sure you go for light shades of printed kurtas for any daytime events. For example, men's kurtas with floral prints, geometrical designs or aligned prints paired with light coloured churidars give you a modern vibe. 
You can choose pastel shades for these printed kurtas, mint green, peach, baby pink, lemon yellow, blue, midnight blue, etc. 
To give it a more festive look, try to find a printed kurta with a shimmery border. Pair with loafers and a leather watch to give a festive look. 
Short Kurta 
Short kurtas are a summer essential to a man's wardrobe. The short kurta has undeniably a desi appeal with the ability to curate a modern and unique look. 
A short kurta style has a similar look to a traditional men's shirt, except that it has a softer Nehru collar and is made of fabrics like khadi, linen, and matka. 
The length of short Kurtas can be either more extended than a shirt or till your thighs. Both can be the easiest way to pull off a casual and traditional look. 
To make it a complete kurta set, pair your short kurta with tapered trousers, and add a blazer for a formal look. 
For a staycation look, style the short kurta with a pair of Chino shorts or half pants with slippers, floaters or sandals. Throw on a hat, digital watch, and sunglasses for a semi-casual look. 
Draped Kurta 
The draped kurta design style for men has gained popularity immensely in the last decade. It features a prominent draping style of the fabric in front to give a significant style statement. 
The draping of the fabric can come in various styles, such as pleats, cowls, and bias-cuts panels in patterns. 
The draped style kurta gives you a chic and elegant desi vibe for an undeniable fashion appeal. 
Pair the draped kurta with crisp cigarette pants that end just below the ankles and men's designer quarter zip sweaters. Wear a stylish pair of Oxford shoes or loafers and a heritage watch to complement the look.