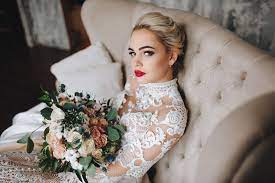 How a Salon Can Help Prepare You for Your Wedding
Are you getting married soon? If so, first and foremost, congratulations! Planning for the wedding takes a lot of work, including figuring out how you want to look. When your big day arrives, you want to look flawless in your photos and at your ceremony. But how can you create that look? Who can help you make it possible?
Instead of trying to create that perfect look from home, many brides choose to go to a stylist to help ensure that their look is created without any type of disaster. Luscious and Co. have those stylists. So skip out on searching for "hair salon near me Fairfield, CT" on the internet when you can choose our services, including the following:
Hair Styling
Our team at Luscious and Co. takes pride in being able to create any hairstyle you desire here at the salon. Our stylists are knowledgeable and experienced in a variety of hairstyles, whether you want an updo or cascading curls. In addition, we provide tips on how to keep your hairstyle in place throughout the day. We understand that not everyone is familiar with hairpiece maintenance, so please contact us if you have any questions. You will leave with the confidence that will last throughout the wedding!
Makeup
At Luscious and Co., we use an airbrushed technique to give you the best makeup look possible. Because the airbrush application is waterproof, it will be okay to shed some tears during your ceremony without worrying about smudging. To give you a perfect look, your theme and style will be taken into consideration so that it appears more natural. For a small upcharge, we will also provide you with lashes fit for you and your look!
Get Your Bridesmaids Ready, Too!
Your wedding party is able to get the same treatment as you, too! By having your bridesmaids get their makeup and hair done together, you can feel more assured that everyone will look uniform and won't have to fret over any clashing styles. They don't have to be the only ones getting pampered, though. You can have any of your loved ones included.
Bridal Suites
At Luscious and Co., we want you to feel like the princess you are. That is why, along with our hair and makeup applications, we offer suites for you and your party to relax in. This includes brunch from some of the area's finest caterers and white linen services. We know how stressful a wedding can be, so we want you to feel at ease right before the ceremony begins.
Since 2012, hundreds of local brides have come to Luscious and Co. to help them create their perfect wedding look. In fact, we have won The Knot's Best Of Beauty Award six years in a row. You already have a lot of things you need to decide, but the salon you visit does not need to be one of them. Schedule an appointment with our team today, so we can find the right look for your special day.