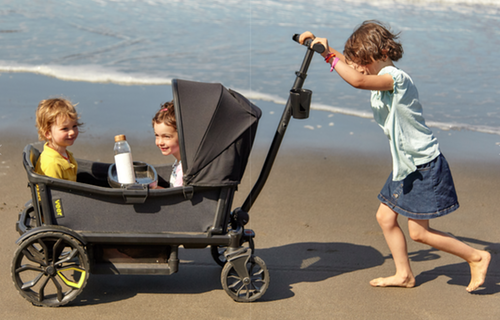 Most comfortable wagon for your toddlers
Having more than one baby at once is quite stressful, especially when they become toddlers. Taking care of two or three toddlers altogether is a difficult task, even if you have people helping you. You have to be around your toddler every time. Going out with the toddlers is a risk and mess in such situations. You cannot guess what they can do and when as they are unpredictable.
How can wagons help you to manage your toddlers outside the home? 
Planning for a vacation or a party seems impossible with the toddlers. But for all the mothers who curb themselves from the fun and leisure time they want because of their babies. WonderFold wagon w4 is just the perfect stroller wagon when taking more than one toddler outside the home. This wagon is designed to keep your babies in great comfort and reduce your stress for toddlers. It will keep your babies safe. You can also keep your baby's stuff like toys, blankets or any other things in the W4 wagon so that they can play freely and sleep inside it.
Features of this wagon:
Wonderfold wagon w4 is a quad wagon stroller that means it is made to carry four kids at a time. It is large enough to hold kids and their belongings. It is the essential feature of a W4 wagon. Besides this, WonderFold's w4 wagon has some excellent features that are given below:
The W4 wagon stroller is uniquely spacious in comparison to other wagons.
It can hold four toddlers at the same time.
It has a slidable and removable canopy with adjustable rods having a UV shield.
It is large enough that all four kids can play and be safe inside it.
All four seats are made high enough for face-to-face interactions.
It can hold up to 300lb weight.
It consists of proper ventilation mesh panels with zippers.
Removable fabric for convenient cleaning.
Extra storage space on all
Conclusion:
This kind of large wagon stroller is worth having as it can be used for your infants as well as toddlers. They are durable and suitable for regular use. And most importantly, your toddlers are safe even outside the home.