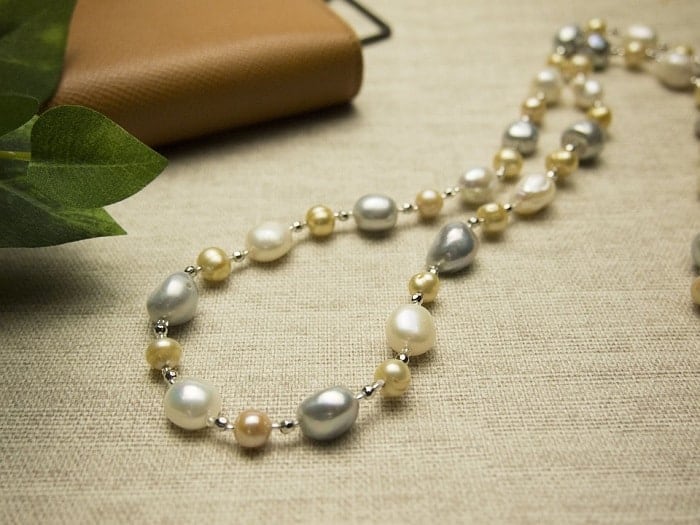 Modernization of the Classic Pearl Necklace
The pearl neckpiece has taken on a modern and chic style that is worn by people of all ages. Read on to find out how the accessory can add visual interest to the wearer.
If you consider pearl strands outdated and conventional jewellery that belongs to your grandmother's closet, then it's time to change your views! Pearls have shed their old-fashioned connotations and become very trendy. In fact, the necklace crafted from perfectly shaped orbs is amongst the most sought-after jewels.
Sported by celebs, fashionistas, and style icons on red carpets, runways, and social media, the ornament is enjoying a well-deserved moment in the spotlight. Realizing the versatility of the classic piece, contemporary designers are breathing new life into the ornament with a fresh modern twist to showcase the lustrous beauty of the aquatic gems.  
The younger generation has taken a shine to the pearl neckpiece and is finding new ways to flaunt it with style and attitude.
Let's check out the modern take on the pearl neckpiece.
Layered Effect:
Pearls have evolved a long way from the simple one-strand necklace.  The modern-day fashionistas are giving it a cool, voguish edge by doubling or even quadrupling it up. Sparkling white pearls embossed in multiple chains of gold or silver also look spectacular. The layered effect is amazing when paired with a plunging neckline, a sharp blazer, or a high collar. Worn with a simple updo or a messy bun, the pearl necklaces of different lengths look trendy and chic. 
Play with a Rope Length:
If you want to add a modish vibe to your look with a classic touch, invest in a pearl rope necklace. There are so many interesting ways to play with the statement piece. A single strand teemed with a black sheath dress guarantees elegance and sophistication. Alternately, the pearls can be worn knotted, layered or twisted to add a wow factor to your favourite jeans.  You could think outside the box and wrap the rope around your wrist to create an eye-catching multi-strand bracelet.
Emphasis Contrast:
Another way to rock the precious sea stone necklace is to accentuate it with a little contrast. This can be accomplished by combining it with other gemstones. A turquoise, amethyst, or red coral necklace added to a traditionally stringed pearl rope helps in highlighting the aesthetic beauty and natural milky purity of the luxurious pearls. Worn in any formal or casual event, the mismatched duo looks stunning and oozes an exotic appeal. 
The Versatile Pearl Choker:
The brilliant lustre of the gorgeous pearl choker that sits comfortably at the base of the neck provides an instant dose of glitz and glamour. The pearl-adorned accessory can elevate your style quotient in a jiffy. Hence, it is perfect for any occasion. If you want to spruce up a casual, everyday outfit, then wear a simple choker. A layered piece with gemstones is the perfect pick to make a style statement at an evening party. The close-fitting neckpiece can add a touch of pizzazz to glam up a saree or a cocktail dress for a sumptuous look.
Wrapping it Up
So, gals if you want to keep your edgy aura going, make sure to add the classic strand to your jewel collection. Whether you're dressing up for after-work drinks with friends or a special dinner date, get creative and spice things up with the magnificent pearl necklace to make heads turn!